Exchange Web Services, EWS, is the legacy API for Exchange on-prem and on-line, but it is still extensively used to approach Exchange programmatically. Note that Microsoft has announced (https://developer.microsoft.com/en-us/graph/blogs/upcoming-changes-to-exchangeweb-services-ews-api-for-office-365/) that starting on July 19th, 2018 "...Exchange Web Services (EWS) will no longer receive feature updates. While the service will continue to receive security updates and certain non-security updates, product design and features will remain unchanged". Microsoft Graph is officially replacing EWS.
EWSEditor is an open-source Windows program, not supported by Microsoft. The source code and releases can be found in the GitHub site https://github.com/dseph/EwsEditor.
Download the last version from the releases GitHub page, unzip it and run the EWSEditor.exe file (installation is not necessary).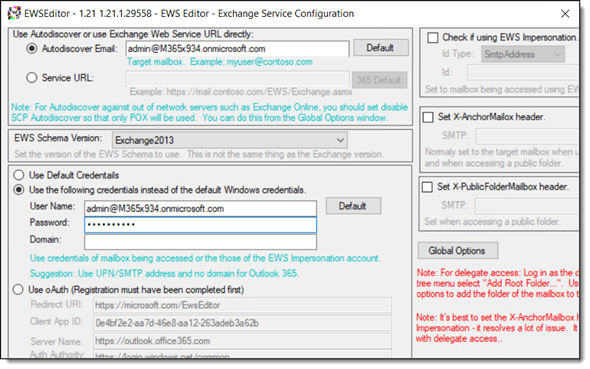 Go the File - New Exchange Service menu to open the login window. Fill the Email address and password for the account to use in Microsoft Office 365. Click on Yes when the popup Do you want to automatically add the mailbox root to the tree view? appears.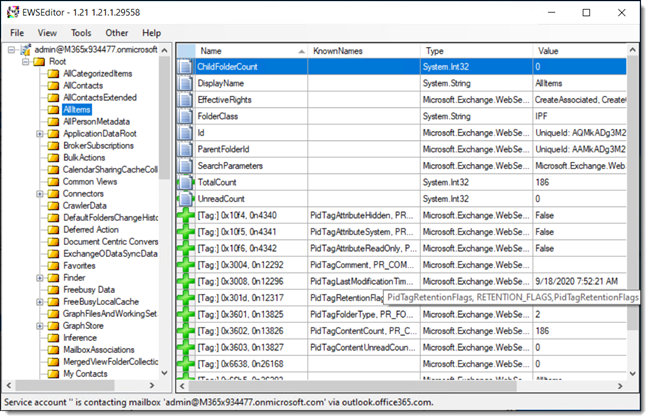 The list of Exchange objects is shown, and with a double-click on each of them, it is possible to see the items under it. The next screen dump shows the items received by the server (Emails, contacts, etc.) and all their properties.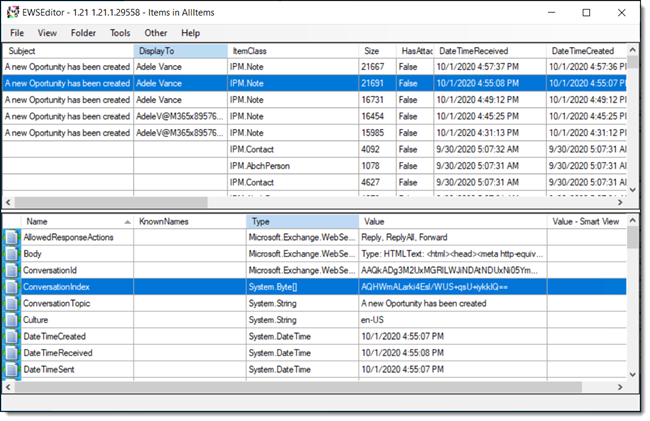 In the Tools and Other menus are several tools that can be used for information and actions related to the Exchange server. For example, use the Tools - EWS POST tool to send queries to Exchange using the POST Web method. Click on Load Example to retrieve several predefined examples, fill the User and Password data, and the Run button to execute the query.