Messaging Application Programming Interface (MAPI) is a transport protocol used by Exchange and Outlook that improves the reliability and stability of the mail connections by moving the transport layer to the HTTP model. This protocol improves the error management in the transmission of messages and includes support for an explicit pause-and-resume function. This enables the client software to change networks or resume from hibernation while maintaining the context.
The MCFMAPI allows us to explore the Exchange MAPI store, showing all its components and values. The tool is developed by Stephen Griffin, it is Open Source, and the source code is published in the GitHub site https://github.com/stephenegriffin/mfcmapi.
Download the last version from the Releases section of the GitHub repo (if you are using Windows x64, you must use the 64 bits version of the tool) and unzip it. It is not necessary to install the tool, just run the MFCMapi.exe executable file. Outlook must be installed on the computer where the tool is running.
Click on the "Session" menu, and then use the "Logon" button. The tool detects the profile used by Outlook and uses it to log in to Exchange.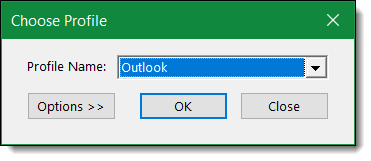 The tool shows all the main components of the MAPI storage.
Double-click on the name of the storage to open the Root Mailbox. Expand the node to examine the mailbox objects. Expand the IPM_SUBTREE, where all the known components are enumerated.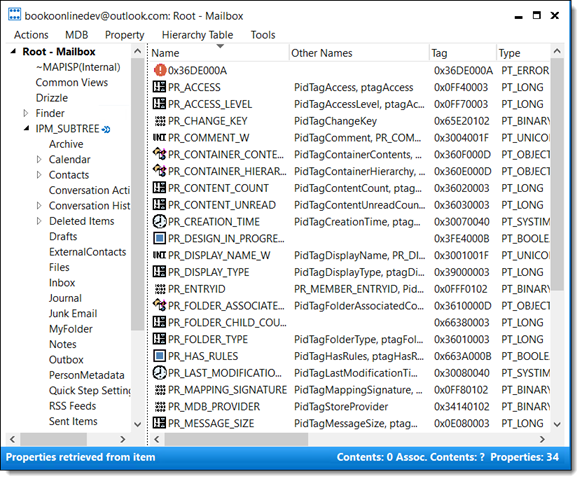 The individual values of the elements in each of the containers can also be presented. For example, for the Inbox.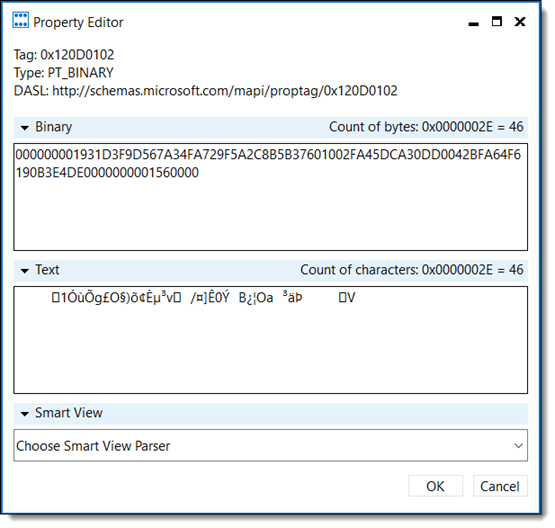 The MFCMAPI tool is extremely handy to find the extended properties defined in Exchange. The following Microsoft Knowledge Base article shows how to use the tool for this purpose:
https://support.microsoft.com/en-us/help/2992093/default-folder-is-missing-in-outlookand-outlook-on-the-web