The Power Platform has a common set of PowerShell cmdlets, divided in two modules, Administrator and Maker. Both modules do have approximately the same type of cmdlets (for CRUD operations with apps, for example), but the first one is aimed at tenant administrators having access to all environments, and the second is aimed at users, giving access to only the resources that the user can reach.
The Connector Browser Tool is a Power App application made by Microsoft that performs as a browser to test out the Power Apps PowerShell cmdlets and makes it easier to understand how to configure the parameters for each operation. All methods available in the application are implemented and ready for use.
The Tool exposes all the Admin and Maker cmdlets, both for Power Apps and Power Automate.
The Connector Browser Tool can be installed, downloading the export package from the following Microsoft site, and importing it into a Power Apps Environment: https://blogcode.blob.core.windows.net/admin-connectors /ConnectorBrowser.zip?st=2018-08-24T20%3A22%3A27Z& se=2025-08-25T20%3A22%3A00Z&sp=rl&sv=2018-03-28& sr=b&sig=xUsKY9%2Fvw24L5uRS5Qk9FqODMgAUqLipk7bdZ9RhobU%3D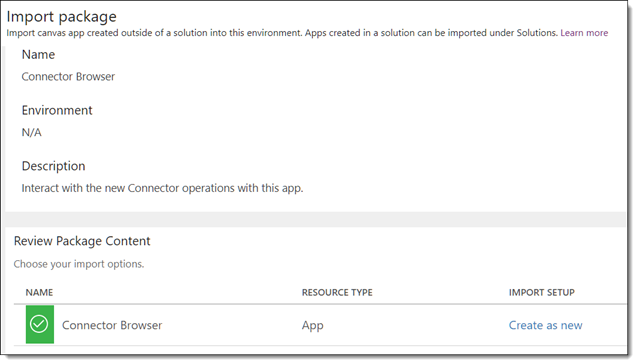 The first time that the App starts, it shows an authorization window that must be accepted.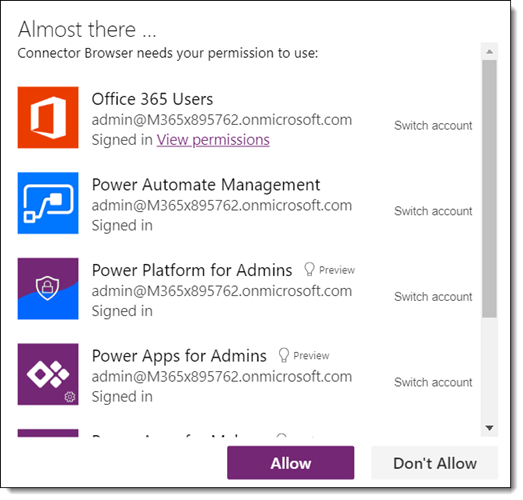 After installation, select one of the cmdlets on the left side of the screen, configure its input parameters, and then click the Submit button. To view the source of the application, open the App in Power App Studio, and review the OnSelect property of the Button_Submit button.
The application was made some years ago (2018), and, since then, Microsoft has changed the cmdlets but not updated the application. Therefore, you will receive several error messages when the application opens, but the complete functionality will work without any problem. Do not use the application for production environments, use it only for test and learning purposes.